Craig's Automatics
In-House State-of-the-art Diagnostic Equipment
Today, most cars are controlled by computers. The fuel injectors, the spark plugs, the steering system and your Transmission are all told when to fire and when to move by an on-board computer system. Craig's Automatics has the latest diagnostic equipment in-house to identify what part of your engine or vehicle needs servicing.
Answermatic Valve Body Tester/Analyse
The Valve Body Tester Analyser is a dual purpose tester/analyser that simulates road test conditions using heated, pressurised Automatic Transmission Fluid to analyse all key transmission functions. Complete valve body testing is achieved in minutes. Vehicle speed controls simulate actual speeds for varied up-shift and down-shift testing, just as if the car was on the road.
The Valve Body Tester  checks bands and clutch applications and locates non-sealing soft parts or worn hard parts in seconds. Units can be tested while still in the vehicle eliminating removal and disassembly time, or they can be bench tested before, during or after rebuilding.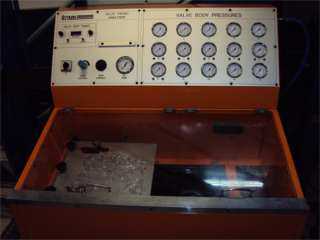 VCM Suite
The VCM Scanner utility is a fully featured OBDII scanning and diagnostic tool. It allows viewing, charting and logging of diagnostic data in real time via the vehicle OBDII diagnostic data port. It also allows viewing of vehicle Diagnostic Trouble Codes (DTC's) and other vehicle information. Built in VCM controls also supported. Command fans, closed loop, gear select, timing, air fuel ratio and more real time! No editor package can be considered complete without comprehensive scan tool capabilities.